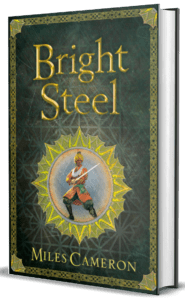 Bright Steel, the third volume of the Masters and Mages trilogy will be available in the UK from Gollancz publishing on August 22nd!
For my American readers, the second volume, Dark Forge, will be published September 17th and Bright Steel will follow along much quicker this time, publishing on December 10th, 2019.
I am very proud of this series and am thrilled with how it turned out. The support from my publisher Gollancz was top rate, and these covers are some of the best ones I've had on any series – absolutely beautiful.
"Every war comes down to the flash of bright steel, even when the air is full of magic . . .
Aranthur and his friends have come together across different continents and realms with one purpose: to strike back against the forces which have torn a hole in the heavens and threaten to rip the world beneath them apart as well.
With time running short, and treason at home, there are battles to be fought on the field, in the magical arena, and in the ever-deadly realm of politics, and they must succeed on every front or everything will fall. Victory will require enemies to trust one another, old foes to fight together, spies to reveal the truth and steadfast allies to betray long-corrupt rulers.
Is Aranthur, a twenty-year-old student, really the master strategist to bring it all together? And can he and his friends overcome aeons of lies when their plans inevitably fall to pieces? Do they even know, for sure, who the enemy is . . . ?"