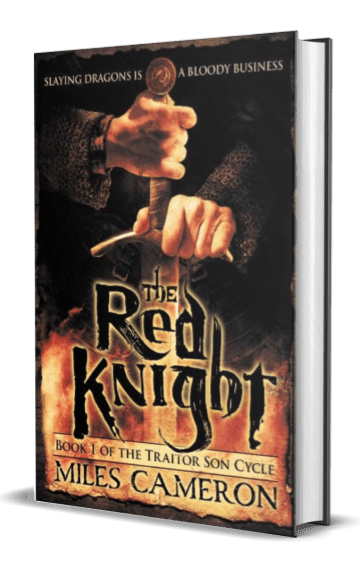 $9.99
Buy Now!
Read A Sample
Add To Your GoodReads
See The Full Series
Publisher:

Orion

Narrator:

Matthew Wolf

Available in:

Kindle, ePub, Hardcopy, Audiobook

ISBN:

0316212288

Published:

January 22, 2013
Twenty eight florins a month is a huge price to pay, for a man to stand between you and the Wild.
Twenty eight florins a month is nowhere near enough when a wyvern's jaws snap shut on your helmet in the hot stink of battle, and the beast starts to rip the head from your shoulders. But if standing and fighting is hard, leading a company of men – or worse, a company of mercenaries – against the smart, deadly creatures of the Wild is even harder.
It takes all the advantages of birth, training, and the luck of the devil to do it.
The Red Knight has all three, he has youth on his side, and he's determined to turn a profit. So when he hires his company out to protect an Abbess and her nunnery, it's just another job. The abby is rich, the nuns are pretty and the monster preying on them is nothing he can't deal with.
Only it's not just a job. It's going to be a war. . .
---
Get The Audiobook
Click on your preferred retailer to get this audiobook.
---
What Others Are Saying
"The Red Knight is an excellent debut…will only get better as the series progresses…you will be won by the intricate story and sophisticated world building."―Fantasy Book Critic on The Red Knight
"Promising historical fantasy debut featuring an expansive cast, an engaging plot, and a detailed eye for combat."―The Ranting Dragon on The Red Knight
"Literate, intelligent and well-thought-out…a pleasingly complex and greatly satisfying novel."―SFF World on The Red Knight
"A rousing read."―SF Signal on The Red Knight
---
You Might Also Like
---