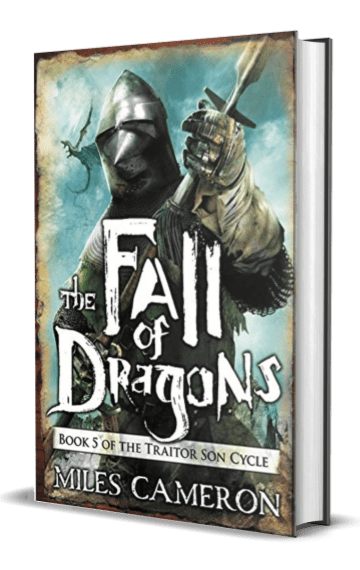 $9.99
Buy Now!
Read A Sample
Add To Your GoodReads
See The Full Series
Publisher:

Orbit

Narrator:

Neil Dickson

Available in:

eBook, Hardcopy, Audiobook

Pages:

701

Duration:

26 hours and 3 minutes

Published:

October 31, 2017
The blood-thirsty, epic Traitor Son Cycle comes to its gripping conclusion in this fifth and final book.
In the climax of the Traitor Son Cycle, the allied armies of the Wild and the Kingdoms of men and women must face Ash for control of the gates to the hermetical universe, and for control of their own destinies. But exhaustion, treachery and time may all prove deadlier enemies.
In Alba, Queen Desiderata struggles to rebuild her kingdom wrecked by a year of civil war, even as the Autumn battles are fought in the west. In the Terra Antica, The Red Knight attempts to force his unwilling allies to finish the Necromancer instead of each other.
But as the last battle nears, The Red Knight makes a horrifying discovery…all of this fighting may have happened before.
SHORTLISTED FOR THE DAVID GEMMELL MORNINGSTAR AWARD.
---
Get The Audiobook
Click on your preferred retailer to get this audiobook.
---
What Others Are Saying
"Promising historical fantasy debut featuring an expansive cast, an engaging plot, and a detailed eye for combat."
―The Ranting Dragon on The Red Knight
"Literate, intelligent, and well-thoughtout…a pleasingly complex and greatly satisfying novel."
―SFF World on The Red Knight
"A rousing read."
―SF Signal on The Red Knight
---
You Might Also Like
---