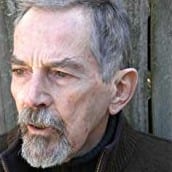 Kenneth M. Cameron passed away in New Bern, NC, at the age of 89 years. He is survived by his life partner of more than forty years, Patti P. Gillespie; son Christian G. Cameron, daughter-in-law Sarah J. Watt, and granddaughter Beatrice Elizabeth Cameron. His wife, Marilyn Hurley Cameron predeceased him.
Kenneth was raised in Rochester NY by his parents, Gordon K. Cameron and Hazel Horton Cameron.  He attended West High School, the University of Rochester (graduating with honors), and Carnegie Melon University (Master of Fine Arts degree).  He was an intelligence officer in the United States Navy, serving with distinction overseas, including two years in Naples, Italy. He worked briefly for Standard Oil in Pittsburgh, PA,  before returning to university, where he soon won a prestigious prize for poetry.  His plays were produced off-Broadway and in various regional theatres, and he directed plays both on and off campus.  He wrote more than forty books, including scholarly books (notably Africa on Film, which in 1994 was awarded the MLA prize for independent scholars ); historical novels (Our Jo); mystery novels, most recently the Denton series (The Oxord Fellow, Hachette, 2013), eight spy novels with his son, and several textbooks on theatre.  He taught English and theatre at the University of Rochester, the University of Iowa, Dartmouth College and elsewhere throughout the sixties and seventies, but left academia to write full time in the 1980s.
Kenneth enjoyed fly-fishing and camping and was passionate about writing and photographing the wilderness and the world of fishing, especially antique rods and early tackle. On these subjects he published articles in most major sporting magazines and in Antiques Magazine. He helped create the collections of displays at both the American Museum of Fly Fishing in Manchester, VT, and the Adirondack Museum (now known as the Museum on Blue Mountain Lake). He enjoyed the Adirondack mountains of upstate NY and lived there three seasons a year since 1989 in an off-grid cabin with his life partner. From there he roamed the whole of the park from Saranac to Speculator, fishing forgotten streams and ponds and camping in remote wilderness, before returning to the cabin to the peace and isolation deep in the woods that he loved.