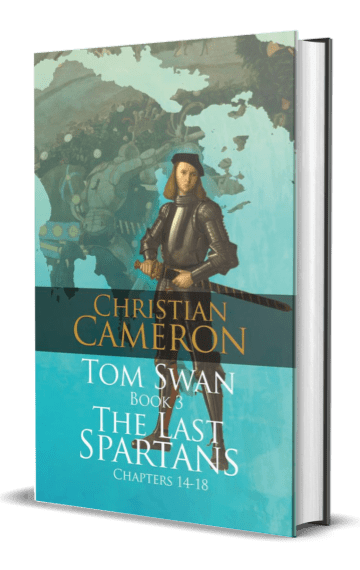 Buy Now!
Read A Sample
Add To Your GoodReads
See The Full Series
Publisher:

Parmenion Books

Available in:

Hardback
Fifteenth-century Europe. Tom Swan is not a professional soldier. He's really a merchant and a scholar looking for remnants of Ancient Greece and Rome – temples, graves, pottery, fabulous animals, unicorn horns.
But he also has a real talent for ending up in the midst of violence when he didn't mean to.
Having used his wits to escape execution, he begins a series of adventures that take him to street duels in Italy, meetings with remarkable men – from Leonardo Da Vinci to Vlad Dracula – and from the intrigues of the War of the Roses to the fall of Constantinople.
---
Limited edition Hardback book in the Tom Swan series covering The Last Spartans, tales 14-18 in the series.